Murray Hewitt

Name
Murray Hewitt
Actor
Rhys Darby
Profession
New Zealand consulate worker
Band manager
First seen
"Sally"
Last seen
N/A
Murray Hewitt is a recurring character on Flight of the Conchords. He is portrayed by Rhys Darby.
Character
[
]
Murray is the manager of the fictional Flight of the Conchords. Murray is the Deputy Cultural Attache to the US from New Zealand. He is also the part time manager for the band. The band meetings are held in Murray's office at the New Zealand Travel Bureau which is next door to an Asian massage parlour. 
Murray takes roll call at the beginning of each meeting and then does a review of the meeting's agenda items. Typically there are two or three in attendance and there are rarely more than two agenda items. More typically there is one.   
Murray always wears a collared shirt and a tie. His best friend is Jim. Murray wants to get Bret and Jemaine into the 'friend realm', up from 'work collegues'. 
Quotes
[
]
"Flight of the Conchords: Mugged (#1.3)" (2007)
Murray: A lot of New Zealanders come over here and they come into my office. I give them reflective vests, a map, I tell them to stay away from large crowds by going through back-alleys, yet almost every day a New Zealander is mugged!
Trivia
[
]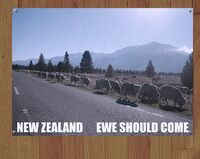 Murray has an English bulldog named Toby and drives a Honda Accord. 
Murray's office at the New Zealand Consulate has many fine posters encouraging people to Come to New Zealand
Murray's hair colour is self-described as Electric Copper in the episode entitled Murray Takes It to the Next Level.
Murray has an estranged wife, Shelley, who left him for someone she met online.
In the radio series, there is a prototype version of Murray called Brian, still played by Rhys Darby.
Photos
[
]